Getting to this a few days late, but congratulations go out to the lacrosse club from Laguna Hills High School, which won the 2012 LA Watts Summer Games tournament at the Home Depot Center in Carson over the weekend in dramatic fashion, first beating favored Palisades in a "Bravheart" after a scoreless OT, then beating Santa Monica 8-7 in overtime.
We posted photos from the tournament over the weekend: Saturday photos | Sunday photos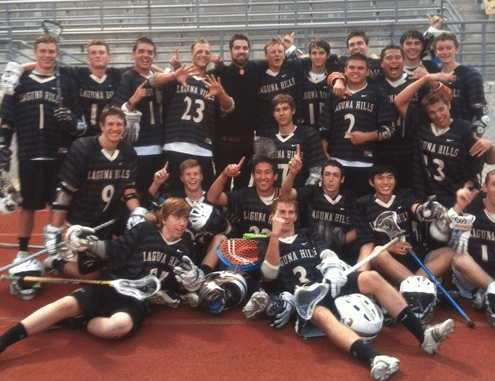 Laguna Hills, you might remember, was not invited to the US Lacrosse CIF Southern Section playoffs, despite going 16-2 and winning the Sea View League with a 7-1 record. Though Laguna's power rating put them No. 11 (ninth among Orange County teams and ahead of four others that did receive playoff invites), their schedule-strength rating ranked 55th out of 67 schools in the Southern Section, and that caused the seeding committee to pass them up.
It's probably a small consolation — I have an email out to the Laguna coach, hoping to get his take on things — but winning the Watts Games with a 5-0 record at least is a great way to start the summer. Senior Taylor Smith of Laguna was named the tournament's MVP. The Hawks opened the tournament on Saturday by beating Santa Monica and Palos Verdes Peninsula, then advanced to the semifinal by beating Harvard-Westlake on Sunday.
Santa Monica, which earned second-place medals, is coming off a trip to the California Club Championships for non-CIF schools. The Vikings lost to Laguna Hills in their tourney opener on Saturday, then reeled off consecutive victories over Glendale, Crespi's Liv Lax club, Palos Verdes Peninsula, St. John Bosco and Granada to reach the final, where they extended Laguna to overtime before falling. Still a 5-2 record in the two-day event, with all five wins coming in a row and both losses to the team that won it all is a pretty solid showing.
Granada, which featured a mix of players from non-CIF Granada Hills HS, CIF Chaminade HS and a few other teams, also went 5-2 on the weekend and was awarded third place. Granada beat Manual Arts and lost to Palisades on Saturday, then started at 10 a.m. Sunday and posted victories against Glendale, Torrance, Culver City and Harvard-Westlake before falling to Santa Monica in the semifinals.
Palisades, coming off a spring season in which it reached the LA County Championship Game, probably was the favorite in this event, but the Dolphins stumbled in the semifinal vs. Laguna Hills due in large part to having two players ejected after an altercation. Laguna held a one-goal lead after the three-minute, two-men-down penalty, and though Palisades managed to tie it and force OT, Laguna eventually won in a Braveheart. Palisades had beaten Culver City, Granada and St. John Bosco to reach the semifinal undefeated.
The event's sportsmanship award went to attackman Martin Beer of Culver City.
Tournament expands
The tournament grew from eight teams in 2011 to 14 this year this year, and it should have been 16 save for a couple of late cancellations. Tournament director Scott Hylen said he could have had 30 teams, if the event organizers would let him.
"If they'd give us the facilities to host it, if I opened this up to Orange County, San Diego, other parts of Southern California, I think we could fill this thing up pretty quick," Hylen said. "We didn't really market it. It's really only supposed to be LAUSD schools, but because we're such a small sport, in order to attract attention to it, they've allowed us to go outside."
The Watts Games are put on by the Los Angeles Junior Chamber of Commerce with a mission "to build bridges of understanding among high school youth." The event features athletic competition in basketball, football, lacrosse, soccer, softball and volleyball.
The Home Depot Center has terrific facilities and certainly could support a bigger lacrosse tournament. However, the three fields allocated this year for lacrosse were spread throughout the venue, making it difficult to catch many of the games. There are locations within the Home Depot Center that have as many as three fields side by side, with another two across a driveway. Centering the event in one corner of the Center like that would provide the opportunity for lacrosse fans to congregate, watch multiple games, socialize and mingle and generally turn the Watts Games lacrosse tournament into one of LA's biggest lacrosse festivals.
That's the lacrosse fan in me talking. As it is, the tournament is a great way to kick off the summer season, or to wrap up the spring season, depending on how you look at it. Congrats again to Laguna Hills, Santa Monica and Granada for their effort and results this weekend.
Club vs. CIF
Don't overlook the fact that neither Santa Monica nor Granada Hills high schools are CIF-sanctioned lacrosse programs. In total, five of the 14 boys lacrosse entries at the Watts Games represented non-CIF high school teams — Torrance, Glendale and St. John Bosco joined SaMo and Granada.
It's a great testament to the growth of the game in the LA area that there are so many non-CIF club teams and that they have enough talent to compete — at least in this event — with CIF teams.
It has to be said …
Hate to criticize officiating, especially in a tournament like this with an all-volunteer pool of officials, but I saw a couple of games played with only one official instead of two and with some who really didn't seem to understand lacrosse. That's not the fault of the officials, though. They're volunteers, for one, and if there's not enough of them to put two on each game, or if you have to pull someone off the volleyball court in order to have someone with a whistle on the field, you make the best of it.
But in at least one case, an already rough game came close to getting out of hand because the official simply didn't know what to call or how to enforce the calls he did make. Players and coaches on both sides were getting frustrated and beginning to take liberties with the rules of the game and of sportsmanship. Putting 20-plus young, male, competitive athletes on the field without qualified officials is asking for trouble.
The officials who dealt with the altercation between Palisades and Laguna Hills, though, should be commended for making what I'm told was absolutely the right call. It's not easy to eject two players in a semifinal game, giving the opponent a two-man advantage for three minutes. One argument says that's too harsh a penalty at that stage of the tournament; let the teams decide it with their best guys on the field. But if the conduct warranted that penalty, it shouldn't matter what stage of a game or tournament it occurs — you have to make the call. And these guys did. Good to see.